Mr. Vice President, Mr. Speaker, members of the Senate and the House of Representatives: yesterday, December 7th, 1941—a date which will live in infamy—the United States of America was suddenly and deliberately attacked by naval and air forces of the Empire of Japan.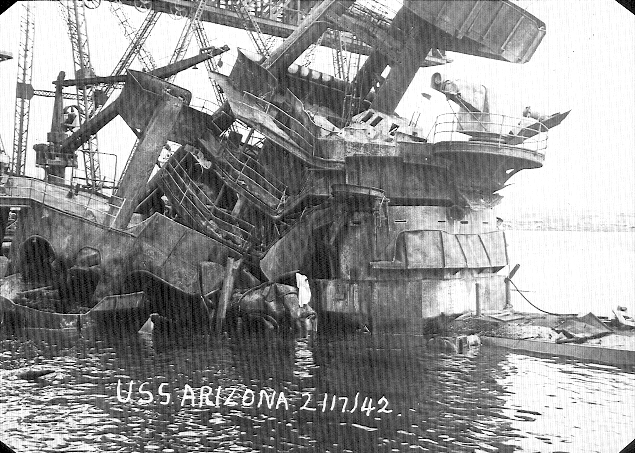 The USS Arizona (BB-39) was a Pennsylvania-class battleship of the United States Navy.
The vessel was the third to be named in honour of the 48th state, though the first since its statehood was actually achieved. She was commissioned in 1916 and saw action in World War I. The USS Arizona is best known for her cataclysmic and dramatic sinking, with the loss of 1,177 lives, during the Japanese attack on Pearl Harbour on 7 December 1941, the event that brought about U.S. involvement in World War II. The wreck was not salvaged, and continues to lie at the floor of the harbour. It is the site of a memorial to those who perished on that day.
Captain Isaac Kidd, USN, pictured prior to his promotion to Rear Admiral.
Acts of heroism on the part of Arizona's officers and men were many, headed by those of Lieutenant Commander Samuel G. Fuqua, the ship's damage control officer, whose coolness in attempting to quell the fires and get survivors off the ship earned him the Medal of Honour. Posthumous awards of the Medal of Honour also went to Rear Admiral Isaac C. Kidd, the first flag officer killed in the Pacific war, and to Captain Franklin Van Valkenburgh, who reached the bridge and was attempting to defend his ship when the bomb hit on the magazines destroyed her.
The blast that destroyed Arizona and sank her at her berth alongside of Ford Island took a total of 1,177 lives of the 1,400 crewmen on board at the time—over half of the casualties suffered by the entire fleet in the attack.